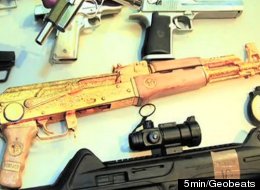 Over time I've done stories about the wealthy's love for gold and precious stones, resulting in them owning bejewelled phones, laptops,
gold shirt
, and even ingesting
edible gold
.
But with the rich,
particularly criminals
you just can never tell the extent of their luxurious vanities;else, how does one explain owning a gold plated AK-47 studded with diamonds? Like the one recently retrieved by authorities in Honduras?
Some people have too much
ill
money spend!
The golden assault rifle,studded with diamonds was seized during a raid on a ranch reportedly owned by drug traffickers in Honduras.
The jewel-encrusted machine gun, which comes with two silver magazines, has an estimated worth of $50,000.
This however isn't the first time "precious guns" have been retrieved by the police from criminals. Sometime in 2010, Mexican soldiers seized an arsenal of gold-plated and diamond-encrusted weapons believed to belong to the Valencia gang, allies of the powerful Sinaloa drug cartel in Mexico. Three of the assault rifles are almost entirely gold-plated and there was even a silencer plated with gold. One particularly image-conscious gangster has made his pistol unique by adding rows of gaudy red and green jewels and a Ferrari logo. Lol! What people would so when they have too much money!
See pictures of golden guns and rifles after the cut.
Handle with care: This gun is so bejewelled that even the trigger has diamonds set in it
Large arsenal: Mexican soldiers who carried out the raid found more than 30 weapons that had been 'pimped' with silver, gold and diamonds
Dazzling: The barrel of one weapon sparkles with the gleam of small diamonds
Silver heat: Even the ammunition magazines were covered with silver
Some of the weapons, snatched from the notorious Valencia gang, were almost entirely golf and silver-plated